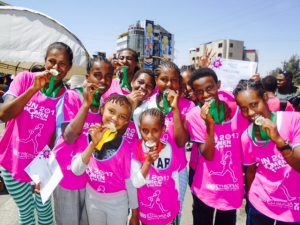 Dear Friends of Enhance Worldwide,
January 2018 marks the third anniversary of Enhance Worldwide being operational — naturally, we're celebrating with a holiday party and a life skills event for all the girls and young women, funded by our Pathways Project!  Enhance Worldwide's three core programs — Kinship Care, Rising Autonomy, and Pathways Project — actively challenge threats of child marriage, institutional care (orphanage), street violence, HIV/AIDS, and trafficking in Addis Ababa, Ethiopia.  Together, we have accomplished so much!
In October 2017, our Board of Directors committed to long-term and strategic program development, program evaluation, and fundraising to support and amplify Enhance Worldwide's capacity and impact.  We are now within reach of fully funding our second GlobalGiving project and our first university cohort — in partnership with Kapadia Education Foundation — is now in their second year of studies.  Our field team and Board of Directors work tirelessly to expand our program offerings, program reach, and the number of constituents served in the Entoto area of Addis Ababa, Ethiopia.
At Enhance Worldwide, we believe in the power of partnerships.  To date, we have partnered with Not Too Late, Days for Girls, and Kapadia Education Foundation, became a member organization of Girls Not Brides and GlobalGiving, as well as a Girls' Globe featured organization.  We can't wait to see the courageous action Enhance Worldwide will take in 2018!
Thank you for joining us on this journey!
– Heather
Heather Mahardy, Founding President