Dear Friends of Enhance Worldwide,
You truly have made an impact through our projects on GlobalGiving:
2 GlobalGiving projects, 1 fully funded
96 donors
$11,884 raised to date, through social media alone
Your support and action could not come at a more critical time.  UNESCO Dakar reports 52 million girls out of school have no access to education in sub Saharan Africa and the completion rate for girls' lower secondary education is only 31%.
The most significant barriers to girls' educational enrollment and completion are disparate gender norms, school-related gender based violence, pregnancy, child marriage, and poverty.  Our Kinship Care program, Rising Autonomy program, and Pathways Project — through your generous support — challenge the way discrimination, poverty, and inequality uniquely impact girls and young women.
During the school year, our field team works with local partners to ensure access to education and healthy mentoring relationships, teaching essential life skills, investing in girlhood through play-focused workshops and activities, providing Conditional Cash Transfers (CTCs) to mitigate barriers to education and increase health and wellbeing, and fostering economic independence through financial literacy education.  Your support ensures our programs reach over 150 direct beneficiaries each school year.
The upcoming summer break from school significantly increases risks: life out of school remains a harrowing place for girls and young women in Ethiopia.  In June 2015, our first summer program launched, stemming from an emergency request from participants and local partners.  The program has grown over the previous three summers, actively creating safe spaces for girls to be girls, not threatened by child marriage, trafficking, or street violence.
This summer program — our fourth — represents an exciting organizational milestone: our entire summer program will be funded exclusively by your GlobalGiving donations!  Thank you for responding so generously to this life-saving need.  Thank you for funding the critical academic and social support required to keep these girls on the educational continuum.  Thank you for standing up for girls!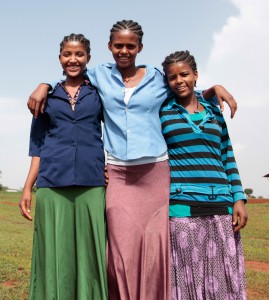 Heather Mahardy | Founding President